JBS Cleaning Hythe CT21
Decking Cleaning & Oiling
Decking has become a very popular adornment to domestic and commercial gardens across Kent over recent years
Most decking installed is the cheaper softwood variety, which tends to deteriorate quicker than the more expensive hardwoods. JBS Cleaning Hythe CT21 can clean all types of decking in Hythe, Saltwood, Canterbury, Ashford & surrounding areas and will provide decking cleaning services for residential and commercial properties all over the county.
Decking is very prone to deterioration from bird stains, including seagulls, moss and algae growth. JBS Cleaning's  professional decking cleaning equipment will clean most types of decking very quickly and bring it back to something like its original condition when first installed. Sometimes it may be necessary to pre-treat the decking first with an anti-fungicide so the pressure cleaning process is more effective.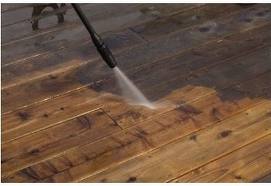 We always recommend having applied at least two coats of decking oil on a newly cleaned area of decking to make the decking look like new and slow down deterioration. The decking oil will also help to maintain the original colour of the decking which can fade over time, from continued exposure to sunlight.
JBS Cleaning can quote for your Decking Cleaning & Oiling work all over Kent in towns such as Hythe CT21, Saltwood CT21, Ashford TN23, Tenterden TN30, Wye TN25, Canterbury CT1 & surrounding areas. Call us now on 07951 062 101 to discuss your needs.
The best part, our services come at an amazing price range